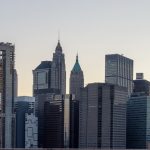 I performed in Carnegie Hall last week. Yup, that Carnegie Hall. I sing second tenor with the Millennial Choir and Orchestra, and this year our summer tour was to NYC to perform at Carnegie. Christine and I flew out a few days before the concert and stayed a few days after so we could see as much of NYC as possible… and we were not disappointed. Neither of us had ever been there before, but of course we've heard all the usual stories about how the city is dirty, can be dangerous, and is full of people who are gruff, angry, and foul-mouthed. Our experience was exactly the opposite: New York City is amazing!

We flew in on Wednesday evening and hopped in an Uber to our hotel (The Ameritania at Times Square – which is an odd name because it is around 10 blocks away from Times Square – but I digress…) After a quick night's sleep we woke up early on Thursday with plans to see the Statue of Liberty, Ellis Island, and the 9/11 memorial that day. Now, if you've never been to NYC, getting around the city can be a somewhat daunting task… traffic really is terrible, so taking a cab or Uber to some places would have mostly just been an expensive way to get there about as fast as walking. We decided to see if we could figure out the subway system, and this is where we had our first real New York experience.
There is a subway station right around the corner from our hotel, and Google Maps told us that was the right station to catch the train down to the ferry port that would take us over to New Jersey where we would catch yet another ferry to Ellis Island. So into the subway station we went. As soon as we got down the first flight of stairs we found the ticket kiosks, but to our dismay they all could only sell single ride passes – we wanted to get a week-long pass so we could ride any train any time during our entire visit. We tried 2 machines, and neither one was working.
As if out of nowhere, a gentleman appeared (I think he was coming up from the platform after arriving at that station on the prior train) and rapidly started hitting buttons and tapping the screen, all the while giving us a very smooth and clearly rehearsed song and dance about how hard these machines are to use and how I and "your lovely wife" would love the city and how easy the trains are to use once you have a ticket. I know this "hero saves us from our own ignorance on the subway" story all sounds amazing so far, but I was convinced we were about to be mugged.
See, here we are – obviously sticking out like a sore thumb as tourists in a little alcove in a subway station alone with a guy who (and I'll be honest, at first glance I thought he might have been homeless) was asking me to hand him my credit card to buy train tickets.
However, my fears were completely unjustified – the man was a perfect gentleman and really did help us buy the right tickets that we wound up using all week. After the tickets were purchased and we were ready to head down to the train, he did ask for a few bucks "for coffee" – which I gladly handed to him with my thanks.
Honestly, just about everyone we ran into in the city, on the subway, at the various places we toured, etc were very friendly and helpful. People were always willing to give directions, and one guy even chased us down leaving a cafe to give Christine her phone – which fell out of her pocket on the chair where we were sitting.
In short: We found New Yorkers to be kind and helpful, if in a bit of a hurry.
Anyhow, here are a few pictures from the Statue of Liberty and Ellis Island:
My grandfather came through Ellis Island from Copenhagen in 1929, so this visit was especially meaningful to me. Also of note is that my choir performed a piece called "The New Colossus", the text of which is taken directly from the sonnet by Emma Lazarus pictured above. If you are not familiar with the history of this sonnet and its meaning, it's worth looking up. I find the words "yearning to breathe free" especially powerful, and this was one of my favorite pieces to perform at Carnegie.
It rained pretty hard that afternoon, so I was grateful that we next headed to the 9/11 Memorial Museum, as that was mostly indoors. If you are ever in New York and only have time to visit 1 thing, this is the place I recommend. Pay extra for the guided tour – it's amazing. Our guide shared lots of new information that I had never heard about the events of that day, as well as the intervening years. The artifacts and history on display there are absolutely amazing. Be prepared for a highly emotional visit as you consider the loss of life, the courage of those who responded, and the impact those events have had on the world. Then entire 9/11 Memorial complex is hallowed ground, and touched me deeply.
The next day was my performance day, so we only had the morning available for sightseeing as I had to report to Carnegie in my tuxedo in the early afternoon. We started the morning off with some authentic New York bagels from a place called Pick A Bagel. Everyone says that bagels in NY are SO much better than everywhere else…. meh. They were bagels. I mean, they were good, but they were just like something I can get at an Einstein's Bagels in Idaho. After breakfast, we walked through central park – which I found to be a nice calm respite from the hustle and bustle of the city streets. After about a 20 minute walk through the park, we arrived at the American Museum of Natural History. We already had tickets to see several of the movies in the museum, and were dismayed to see a line all the way down the steps and down the street from the entrance. Fearing we would miss our movie times, we asked a security guard if we were in the right place. He saw our tickets and pointed us down the street and on the left, where there was an alternative entrance with absolutely no line at all! We breezed through security and made it into the first theater with a few minutes to spare. Turns out this first movie was the highlight of this museum for me: It was filmed in 3D and took a look at the amazing life in our oceans. I was transfixed. The rest of the museum was also really interesting, but this was my favorite. We only managed to see about a third of the museum before our time was up and we had to head back to the hotel so I could get ready to perform. Here are some shots from that morning and the museum:
I've heard stories all about the veritable circus that you can find on the subways of NY – people performing comedy routines, jugglers, magicians, musicians, crazy people, etc… but up to this point in our trip we had only had perfectly normal trips on the subway. Normal people sitting quietly on the train minding their own business. We finally struck gold when we stepped onto the subway from Carnegie to get back to the hotel, when these guys shouted: "Hey everybody, welcome to the train!" and busted out this sweet rendition of "Stand By Me". They were great!
Performing in Carnegie is difficult to describe. The building is so full of history, and has such gravitas – yet it is still very similar to many other places I've performed. The choir and orchestra are so large that we didn't all fit on the stage, and wound up with a large number of the seats / balconies occupied by performers as well. Our afternoon rehearsal went well, and after a very quick dinner, and a brief pause by the granite bedrock under the theater (which you rub for good luck) we were on stage performing to a sold out house.
Normally when performing in a large hall, it's somewhat difficult to hear everything from on stage…but there is a certain something about the acoustics of Carnegie that made it feel as though we were completely surrounded by the music we were making. I don't really know how to describe it other than to say this concert sounded better to me on stage than any other I've ever done. The acoustics there really are that good.
We expected the concert to conclude around 10:15 pm, but it ran a little long. I didn't get out of Carnegie until after 10:45, and we had dinner reservations at Carmine's in Times Square at 11. Google maps said it would take 20 minutes to get there in a car, but only 15 or so to walk… so we walked… briskly. Or, at least as briskly as we could with that many people on the street. At one point the sidewalk was completely jammed with people trying to get into Times Square… at 11pm… We hardly even had time to look around at the amazing cacophony of light, noise, and people and we practically ran to make our dinner reservation. We flew up to the maitre'd at 11:04, and they still took us. 5 minutes later we had a table and a delicious authentic Italian meal shortly followed. If you ever have a chance to eat at Carmine's, bring a lot of friends. Everything is family style, and we wish we could have tried several different dishes instead of only managing to eat about half of one between the 2 of us.
Our final full day in NYC started pretty early, as we had tickets for a private tour of the Growler (a cold-war era submarine docked at the Intrepid air and Space Museum), and we had to arrive before the museum even opened for our tour. We decided to just walk, and enjoyed more of the sights and sounds of the streets of Manhattan as we made our way to the Intrepid. I've toured a few submarines, and every time I'm struck by just how tight the quarters are, and how difficult it must be to live in such a confined space for weeks or months at a time.
After the growler, we also had a private tour of the Concorde booked. Christine had never really heard about the Concorde and had no idea about the role this plane played in aviation history, and she found the tour to be really interesting. This exact plane is the one that set the following record: "The fastest transatlantic airliner flight was from New York JFK to London Heathrow on 7 February 1996 by the British Airways G-BOAD in 2 hours, 52 minutes, 59 seconds from take-off to touchdown aided by a 175 mph (282 km/h) tailwind." Our guide told us all about the famous entertainers, politicians, and business people that flew on this exact plane when it was in service. He also pointed out many of the unique features of this plane, including how it would grow nearly a foot longer during flight as the exterior of the plane heated up with friction from the atmosphere when flying at supersonic speeds. This tour wrapped up with us in the cockpit, where we could see the famous "Mach" gauge first hand.
Up next (still at the Intrepid Air and Space Museum) we took a quick look at the Space Shuttle Enterprise which is on display there. Christine particularly enjoyed learning that this was actually named Enterprise after a huge number of requests and petitions from Star Trek fans. Given how close we were to the 50th anniversary of the first manned mission to the moon, I really enjoyed seeing some of the displays available in the Enterprise exhibit. I've always been a bit of a space nerd, and when I was a kid I had a huge wall-sized mural of one of the shuttles photographed while in orbit with the Earth in the background. The engineering achievements required to get people into space are nothing short of astounding.
After the Intrepid, we grabbed some lunch from a street vendor which was absolutely delicious! Food trucks like these are all over the city, and are a great way to get a quick bite to eat. After lunch we headed to catch a showing of Wicked on Broadway. I enjoyed it, but this may have been one of the top highlights of the entire trip for Christine. She loved the entire show!
After Wicked, we decided that we wanted to see more of the 9/11 Memorial complex. When we went earlier in the trip, it was evening and raining, so we didn't spend any time at the reflection pools or anywhere else outdoors. We spent an hour or so walking the grounds and further reflecting on the events of that day, and how our lives changed as a result. I was again struck with a strong emotional response to all that happened there, and I'm incredibly grateful that this memorial exists to preserve the memory of that day, the people lost, their loved ones, the first responders, and all affected by the horrific attack.
On our last evening, we walked across the Brooklyn bridge at sunset. We knew it would be busy, but had no idea just how many thousands of other people had the same idea about how to spend their evening. The entire walking path was crowded the entire time, and it was often difficult to find a place to even pause to take pictures or rest. If you ever plan to walk across the bridge, understand that it is a pretty long walk, it will be very crowded, and if you go during the summer you should bring a lot of water and be prepared to deal with getting overheated. We stopped multiple times to cool down and drink lots of water. We actually had no idea while walking across the bridge, but at that exact time much of Manhattan had lost power and was in a blackout. I was lucky that I performed on Friday evening, because the cast that was scheduled to perform on Saturday evening had their concert canceled. The show must go on, as they say, and they wound up simply walking out onto the street around Carnegie and performing a few pieces for whoever was in earshot to hear. Of course that went viral as hundreds and hundreds of passers-by were treated to a Carnegie performance on the street. Once we were across the bridge, we found a little pizza place directly under the bridge to grab a late dinner.
After our last dinner in NY, we walked out to a park right on the water with a fantastic view of Manhattan, where I shot this:

We still had tickets to get up to the top of the Empire State Building, but they were only good until midnight, and by the time I finished shooting this image, it was past 11 pm. We had to get across the water back into Manhattan and all the way up to the Empire State – and the subways were all snarled and off schedule due to the power outage. We didn't know how massive the outage had been, and headed for the closest subway station to catch a train back into Manhattan. We wound up waiting for about 40 minutes for a train to show up, and while we waited we wound up in conversation with a couple of guys who run a local photography meet-up group that had been out photographing the city that evening. Again, super friendly folks who were glad to meet a fellow shutterbug and exchange ideas about the best places to shoot the city, etc. Eventually the train we needed showed up and we got into the Empire State Building about 3 minutes before our tickets expired! Unfortunately, tripods are not permitted up on the observation deck, and I had a really bad experience in their security line trying to get an explanation about why they were taking away my tripod. I had been lugging it around all day because I knew we were going to be up there after dark and I wanted good shots of the city. I really wish that their ticketing website was more clear about this restriction – it's not mentioned anywhere when purchasing tickets or learning about what you can do there. So, with a sour taste in my mouth we headed up to the observation deck. I was still able to get a few pictures, but they are not as good as I was hoping.
The next morning we packed up and used the subway to head to the airport after a quick lunch in Manhattan. These brief days in NYC were amazing, exhausting, and we loved every minute of it all. I'd love to go back and spend several weeks exploring all that this amazing city has to offer.