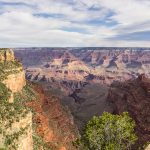 Back in May of 2016 Christine and I went on one of the most physically demanding adventures we have ever attempted: Hiking the Grand Canyon.  This was no simple trot along the rim for an hour or 2 followed up by some fro-yo at the gift shop… this was a massive, grueling, difficult, stupid hike that neither of us really should have attempted.
But we did it.
And it was amazing.
Christine's father has done this hike several times, and very luckily for us he took care of all the logistics and planning.  We literally had to just show up at the lodge the night before with backpacks full of snacks and a can-do attitude.  After a fantastic dinner at the local pizza joint where we did some carbo-loading, we returned to the Maswick lodge near the edge of the canyon for a fitful and short night's sleep.  There are several well-known stopping points along the trail we were planning to take, and one such place is known as "Ohh-Ahh Point", so named because if you get an early enough start you can be there by the time the sun comes up.
So we awoke sometime around 4:15 as I recall, and headed out to meet a cab at the entrance to the lodge.  The cab service there is apparently of the "we'll get there when we are darn good and ready" variety, so after 20ish minutes of waiting we bailed and walked over to where a shuttle picked us up.  This is where the first surprise hit me: There were more than just a few people crazy enough to be up before 5 am cramming themselves onto a bus headed for the most difficult hike I'd ever attempted in my life. Luckily, we got on the bus early enough in the crowd that we got seats – but I spent the bus ride to the trail head bobbing and weaving my head to avoid hitting either of the packs of the gentlemen standing in the row next to me or the pack of the woman seated directly to my right, who had decided against that all-important morning shower and was taking the opportunity the bus ride provided to dig around in her seemingly bottomless pack.  Think "Mary Poppins after a year or 2 on meth" and you'll get the picture.
Anyway, we eventually arrived at the trailhead, but by the time we got there the sun was nearly up, so in spite of a near jog down to Ohh Ahh point, we arrived several minutes after the sun did.  However, the view was still stunning – sunrise or no:
After a VERY brief pause at Ohh Ahh point, we got cranking on down the trail at a good pace.  The day had dawned cool, with a slight breeze – ideal for hiking.  Rodney (Christine's dad) warned us repeatedly about the heat that was to come, but at this point the day was cool and comfortable and we were still full of enthusiasm, ambition, and cheery attitudes.
Those of you who may be familiar with the trails in the Grand Canyon may recognize that Ohh Ahh point lies on the South Kaibab Trail, a little less than a mile from the trailhead. If you are not familiar with the Kaibab Trail, but would like to learn a little more, the National Park Service has provided this handy PDF chocked full of information.  You may notice the warnings about hiking all the way down to the river and back up again in one day in that PDF: They're not kidding.  The whole way down Rodney regaled us with tales of hikers who had attempted that hike with poor preparation and wound up in serious trouble, with major injuries, or even losing their life.
This was, of course, the hike we were planning to do.  If you are planning to hike the Grand Canyon, do yourself a favor and hike the South Kaibab Trail down to Cedar Ridge.  Then, after enjoying the view and bolstering your confidence in your hiking prowess, turn around and hike right back out.  Trust me.
Unless, of course, you have some sort of mental condition that makes you believe a) you know better than the National Park Service (they've been at this for a while now) and b) for some reason your body is not susceptible to the dangers of dehydration, exhaustion, or gravity.  That appears to be the attitude we all adopted as we bravely and blithely continued meandering down the trail.
The views on the way down are spectacular:
We stopped frequently to photograph the canyon, have a snack and a drink, and rest briefly.  Spirits stayed high, but by the time we were finally in view of the river, I was beginning to become very concerned about how much elevation we had lost and subsequently would have to gain to get back out that afternoon.
The bridge at the bottom was a welcome sight – but also appeared with a hefty weight of trepidation knowing that now we were down, and the only way out was back up. The entrance to the bridge is a tunnel cut right through the rock face – we are still smiling, so things can't be all that bad yet….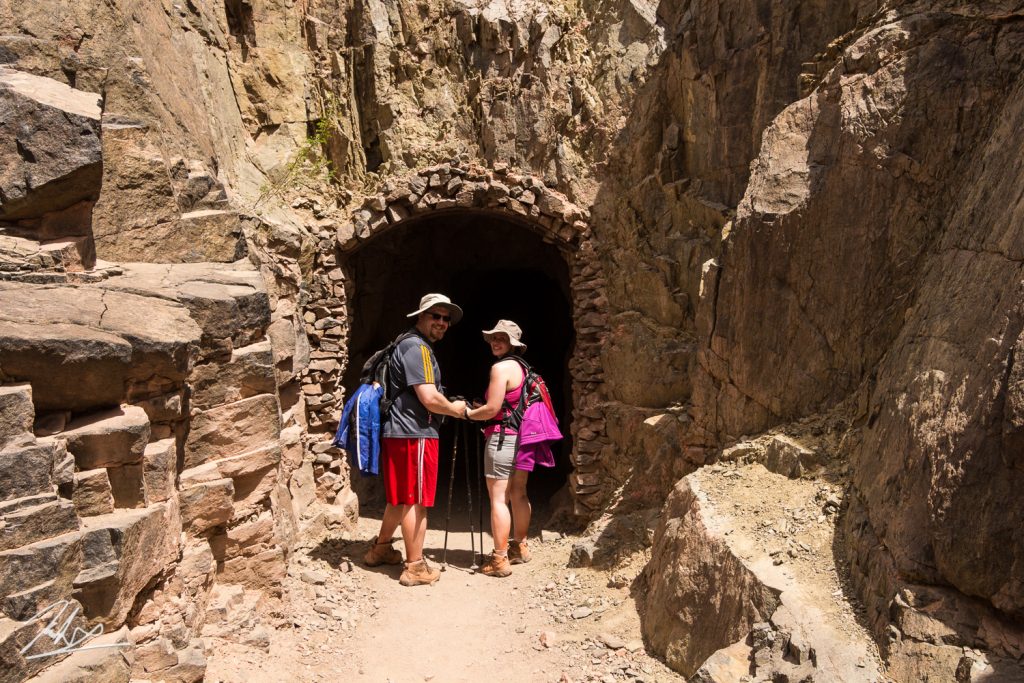 We expected it would be significantly hotter at the bottom of the canyon – and it was.  But the coolness of the river seemed to absorb some of the heat.  By this time I was VERY ready for the anticipated rest stop at Phantom Ranch at the bottom, but I did take a few moments to get some shots on and around the bridge:
We planned to eat lunch there and rest for a little while before starting the trek up Bright Angel trail.  Here is a shot of us finally entering Phantom Ranch – really ready for a break.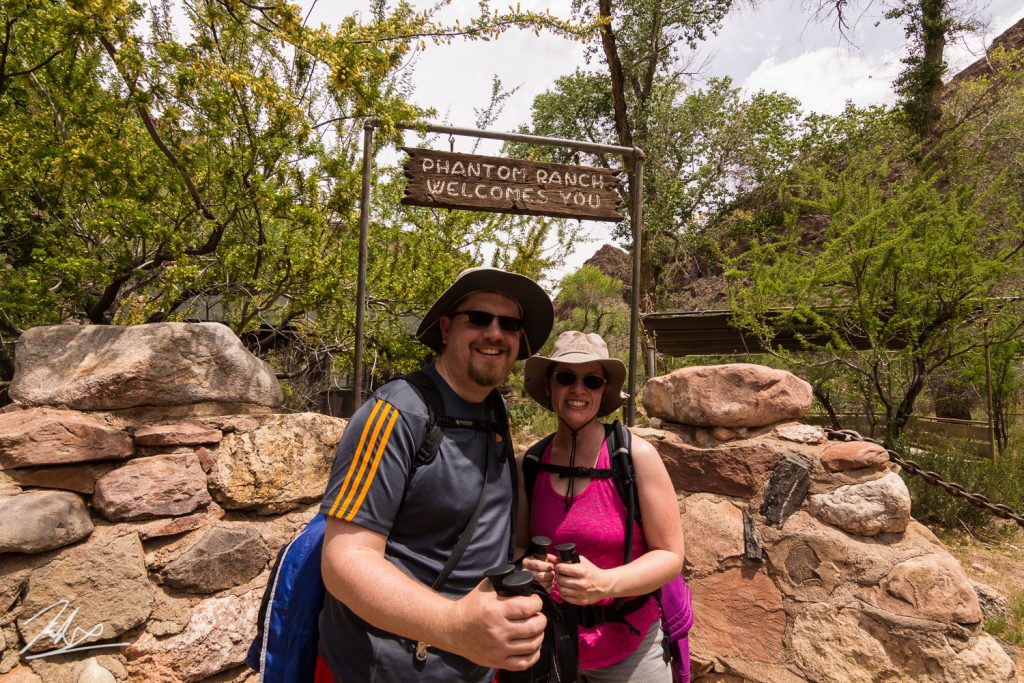 We started with soaking our hats and bandannas in water, taking off our packs and sitting down at a picnic table outside the little trading post they have there.  I took out some water and started to take some drinks – and began eating.  This is where things for me began to go from "hey, this is a fun hike!" to "That's it, I'm going to die."  I was really surprised how quickly I went from feeling pretty good to feeling really terrible… Christine and I retreated into the trading post to sit where it was cooler, and to buy some lemonade.  While trying to enjoy a glass of cold lemonade we filled out some postcards that would be delivered US Mail on the back of a mule out of the canyon to our kids.  This is when I really began to realize not only the physical toll that the hike had taken on my body, but the mental one as well… I could not think of the right words.  I could not remember our address.  I could not remember where the stamp goes on the postcard (hint: in the box clearly labeled "Place Stamp Here").
As I was working on trying to figure out how to fill out a postcard, a guy sitting across the table (who had been slumped over with his head down when we came in) perked up and casually asked if we were Canadians or something.  We got to chatting and it turned out that he was doing a rim to rim to rim RUN that day – he'd started on the South rim that morning, had been down to the bottom and back up to the north rim already, and was now BACK down at the bottom getting ready to run (you read that correctly) back up to the south rim.
He had to explain this to me multiple times before I understood the madness that he was pursuing… And unfortunately he was in a similar mental and physical state that I was – i.e., not doing great.  He had been doing this run with a friend, but when he started to feel sick at the bottom his friend decided that the best course of action was to ditch him and take off alone… so we invited him to join our party.
I figured I needed to just cool off and both rehydrate and eat more, so that's what we did.. we rested at Phantom Ranch for as long as we could, but knowing that the hike out was up next, we knew we needed to get going or we'd never get out of the canyon.  So after what I thought was way too short of a break we loaded up all our gear (I was starting to feel a little better) and started off.
There is not a lot that I can show you about the hike out because I didn't actually take any pictures at all – I was no longer able to exert the mental energy… our goal was singular: get to the top. There were much more frequent stops for water and rest on the way up, and there were a few times we stopped to help other hikers in distress.  Christine had a chance to practice her nursing skills on a young woman who had badly banged up her knee, etc.
Now during all the planning stages of this hike and even all the morning down the Kaibab trail Rodney had been warning us about how HOT and miserable the hike out would be up Bright Angel.  I'm sure that for most people stupid enough to try this hike that is the reality – but for us on this particular day we got to enjoy a small meteorological miracle: rain.  During the afternoon while we were on what had historically been the hottest part of the trail, the skies clouded over and a very light rain fell.  It was enough rain to keep you cool but not so much to soak through your clothes. Christine is especially prone to heat-related problems (heat stroke, etc) and for her this was possibly the most wonderful thing that could have happened.  As a result of this rain, the hike up was mostly very cool and nice, though difficult given how tired we were.
Even with the rain and a reduced pace, I started to feel ill again.  I didn't know it at the time, but I now realize that while I had been drinking plenty of water, I had not been getting enough electrolytes. On the lower part of the trail we were really only stopping at the more-or-less designated stopping points. The further up we got, the more I had to stop and find a rock to sit on to fight off a mix of nausea, dizziness, and overall fatigue.  During one of these stops Tony pulled out what I can only describe as the most magical dried pineapple I've ever seen.  He offered a few bites to me, and I don't believe I've ever tasted anything quite so perfect for what I needed at the time.  That stuff was magical – after a few minutes I was feeling much better and we were able to pick up the pace a bit.
Each time we stopped from then on, I asked for some more pineapple and tried to eat something salty as well.  Eventually we neared the top as the sun fell over the far horizon.  We stopped several hundred yards from the top as a group and sang "Nearer My God, To Thee".  If you have ever wanted to have a chance at some real introspection, try hiking this canyon and then singing a hymn.  Try not to pass out on the long notes.
Before I knew it, we were out of the canyon and stumbling back to the lodge. Christine and I grabbed a late dinner and almost immediately passed out in our room, thankful for the journey we had made and that we returned safely.
The Grand Canyon is a surreal, magical, amazing place.  If you ever have a chance to do more than peer over the rim, I highly recommend exploring its depths yourself.