Last week there was a story on slashdot pointing to www.sysadminoftheyear.com, a site where folks can go to nominate their IT staff for Sysadmin of the Year.  They were offering free T-Shirts to the first 2500 nominations, so I asked Adrian to nominate me.  Here is what he sent in:
"Though he's not as fat as SysAdmin Mark, he is eating plenty of donuts, does have facial hair, and does play electric guitar (at work, no less). He has 3 different computers on his desk running 5 operating systems, plus he has his own personal vending machine right in his office. The desk catapult and stylish plasma globe complete his tech toy ensemble and elevate him to the status of SysGod.
Oh–and he also designs and builds yummy web apps, infrastructure and products we can sell to get our customers' sweet, sweet money. Sometimes he does this at midnight, but usually only afterwards. He always has an answer for my moronic, non-technical questions and he draws engaging color diagrams on the white board that include many acronyms.
But there's more to a SysAdmin than just work–which is why he built a full server room in his garage at home as well. This way he can enjoy time with the family and still see his kids. You decide how to interpret that last sentence. And he's a sensitive man, not ashamed to admit he cried when he crashed his remote controlled helicopter in the hallway at work, and always willing to build something new if he can use his Dremel tool.
He may not be all that round, but you can't deny he's a well-rounded mix of toys, talents, skills, and knowledge. But beyond that, he's a go-to guy, always ready to leap into the breach and rescue the technology that drives his paycheck. He's a really nice guy–but please don't make him SysAdmin of the year. He gets enough job offers as it is."
Turns out I was one of the first 2500 nominated, so I sent off for my free T-Shirt.  It came yesterday, so here's an action shot of me rockin' out in it: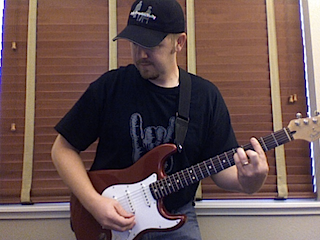 The grand prize is a new guitar and a new MacBookPro. 
I know exactly what I'll do with both. 🙂