This past spring, Isaac was on his first T-Ball team.  Daddy and Isaac dutifully went to every practice before the first game.  Practices were times to learn many important T-Ball skills, such as:
Getting smacked in the face by a ball thrown at you by your dad
Tripping over your own shoelaces
Fielding a ball while wearing your glove on the wrong hand
Swinging your bat as hard as you can at a ball that is not moving, and missing most every time
Discovering how impossible it is to keep your hat on straight
Outfield napping
Running the wrong direction around the bases
Throwing your bat when you swing real hard
Once he had mastered the basics, it was time to move up to playing real games.  During games, even more skills were obtained, such as:
How to stand in a line
How to get at that darn stubborn booger
How to make sure everything is adjusted just right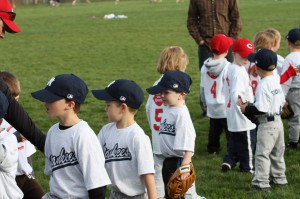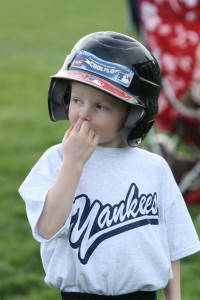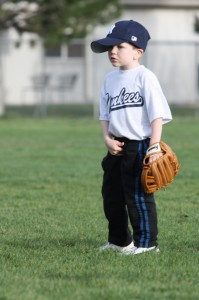 His coaches and teammates were great, and Isaac had a great time!
Go Isaac!