For those of you (all 2) who read this little blog regularly, you know that I have planted a garden this year.  Well, I finally finished all the construction, and got around taking some pictures.
I was actually quite surprised about how much work there was to set up the garden in the first place:  Build the boxes, mix the soil, fill the boxes, put on the grids, plumb an extra sprinkler station, plumb the soaker hoses, arrange all the hoses with clamps to hold them, build frames to hold weather/varmint protection, build trellises, and, finally, plant some stuff.
Whew!
My back is killing me, but the garden is finally complete.  We've been planting things pretty steadily following the timing guidelines for our area, and we are getting pretty excited about our results.
We actually were able to harvest our first radishes from the garden for a salad last night!
Here, then, are some pictures:
These were taken the night I finally finished the trellises.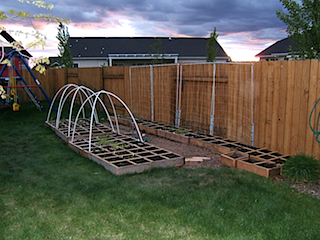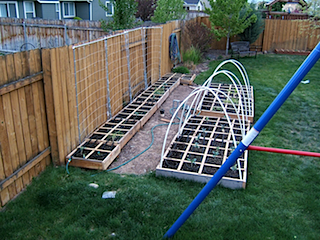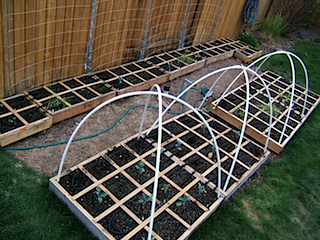 And I took these tonight.  Notice we added more frames on the back boxes, and the plants are lots bigger tonight: