Some time ago, Christine posted a note in her blog about our piano ordeal.  To sum up, we ordered a piano in June of this year from the folks at the Piano Superstore.  Normally I would not consider purchasing something like a piano sight unseen (and unplayed/heard) but after several weeks of looking at traditional piano dealers, scouring Craigslist, etc, it became apparent that the type of piano we wanted simply did not exist in our price range except from the Piano Superstore.  We wanted a 5'5" grand in polished ebony – they had one for about $1200 less than I could have found one anywhere else, so I called them up and I bought it.  
At the time of the sale, they expected delivery to take between 8-12 weeks.  So, after 8 weeks of hearing nothing from them, I called to check the status.  Thus my piano purchasing odyssey began.  It seems that just about every time I called them I got a different song and dance about where my piano was and when to expect it to arrive. 
I'll spare you the details, but suffice it to say that my time spent on the phone with them waiting for answers on my nearly weekly calls for the last 3 months has most definitely not been worth the cost savings on the piano.  If I had it to do all over again, I would have found a way to shell out the extra bucks to buy a piano locally. 
The piano finally did arrive last week, and we are satisfied with the quality and design of the instrument, but I'm still ticked about how long it took to arrive.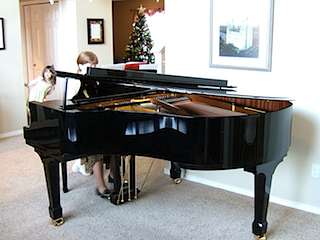 More pictures are available in our gallery.